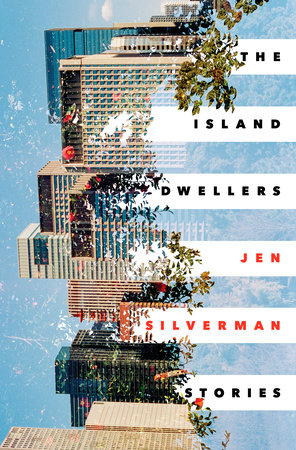 There is such a thing as a credible joke — one based in astute observation, irony, paradox. Such humor lies at the opposite end of puns: it's richly semantic. If credibility matters, do read this collection. You'll be laughing, but the laughter is razor sharp. Even the titles in this short story collection by Jen Silverman are barbed:  "White People" and "Surveillance" refer to challenged, even anxiety-ridden characters trapped in circumstances of their own making.
Occasionally the rapier in The Island Dwellers softens, such as at the end of "Surveillance," but by then one anticipates the sympathy moving to ridicule, like a dark-haired woman slipping from jogging clothes into a slinky evening dress.  Maybe after she's jotted a few notes in a journal.
Consider this musing by the narrator in "White People":
I imagined a life in which we lived together, maybe in Portland, and we'd wake up and he would stretch while I wrote, and later we would work in the garden and then cook together, and then take our two dogs for a walk. I imagined Elias's mother coming to visit, from Venezuela. She might be wary of me at first, and I would understand that — perhaps the only white people she knows have been her employers. But I would be so warm and so welcoming that eventually she really would feel that mi casa was su casa. And she would would say to Elias, "'What a woman you've found!' She would say, 'She's like one of us'" (p. 98).
The lesson of Silverman's acutely authentic, high fidelity portraits? That what passes for perverted is normal, and vice versa.
If anything, Silverman risks depicting a place in which she alone is left standing while the rest of us toil obsessively over tasks whose importance is to be judged only by the humor she uncovers in those obsessions.
But take a breath, steel yourself for the coming zingers and chuckle your way through an enormously witty collection.
Whether or not we see ourselves in the witty outlines Silverman sketched, her eye for foibles, fads and fun reveals the lethality of a quirky genius at work — perhaps toiling in Apartment 2B, since 1B and 3B are busily occupied by characters from "White People."  
This book review of The Island Dwellers by Jen Silverman was made possible by a copy provided by Random House through Amazon.