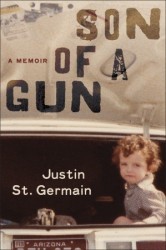 It's "an elitist fantasy, the simple life," St. Germain writes of that lying dream. "I ought to know better, ought to remember how it feels to live in a place like this, the grinding poverty, the lack of opportunity, all the kinds of self-defeat — alcohol, drugs, gossip — the gnawing fear that you haven't gotten away from the world, it's gotten away from you . . ."
Violence is America's fetish, and it's St. Germain's bête noire. In Tombstone, Ariz., where he's raised after his mother lands there (according to a former fiancé, "she'd always wanted to see the O.K. Corral," the setting of Wyatt Earp's notorious gunfight), he remarks of the World's Largest Rosebush, "It's my favorite place in all of Tombstone, the only pure thing in this whole town, the only attraction that doesn't depend on somebody dying." This single elegant sentence proves that if the brilliance of "Son of a Gun" lies in its restraint, its importance lies in the generosity of the author's insights.
Justin St. Germain has written a memoir, Son of a Gun (Random House), that is riveting because his own mother was murdered. Is a story of violence and Arizona "Marriage Handbooks."  It is all too easy for this Tucson native to imagine him "at a support-group meeting in a rundown hospital complex in Tucson years after his mother's death."
Reviewer: Alexandra Fuller Read the full review. . .
---


Share book reviews and ratings with DV,
and even join a book club on Goodreads.