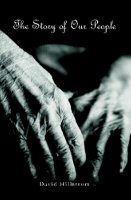 Its narrative arc is elegant: an older woman assumes the role of grandmother to refugee children after "a terrible civil conflict."   It is also ambitious, and poetry sometimes succeeds by intimating a larger truth by starting small, rather than by starting big.  (Perhaps this is why some poets can be maddeningly humble, reluctant to take firm positions outside a comfort zone of naturalism and the occasional foray into politics).  In David Hillstrom's The Story of Our People (Booksurge, 2008, ISBN-1-4196-9866-4), a big — that is, immodest — start is proclaimed on the chapbook's jacket, "a wonderful volume for readers who love poetry and who seek deeper meanings to all of life's challenging questions."
In the course of what he terms a "dramatic poem,"  Hillstrom's (pen name) ambitious arc takes the form of three voices: poet, woman and welder, brought together "at a historic moment,"  a moment never described.  This is how the telling, most decidedly not the showing, begins.   The scene-setting first couple of prose pages could been condensed into a single stanza.  Alternatively, Hillstrom could have supplied a richness of prose detail, created momentum, or sketched a memorable character.  This judgement weakens much of  "Story," underlining an intrinsic challenge to interweaving prose and free verse.
There are provocative noun phrases in Hillstrom's work: "plexing trails," "pensioned eyes,"  "common day bonds" that suggest a keen poetic mind.
There are also underwhelming passages:
. . . testimony to our mortality.
No one survives. ("Mortality").
. . . our long march begins
through ages of darkness,
light and cavernous reflections;
yet our future is a wax tablet ("The Resurrection of Brotherhood").
The outline of "Story of Our People" has an interesting and potentially fruitful design. "Let the Orchards Blossom" is the title of one section of this work.  Perhaps Hillstrom will one day revisit this fine orchard to plant a more durable species.
(c) 2009  by Mark Underwood
---


Share book reviews and ratings with DV,
and even join a book club on Goodreads.